Comparing Proportions in R
Previously, we described the essentials of R programming and provided quick start guides for importing data into R. Additionally, we described how to compute descriptive or summary statistics, correlation analysis, as well as, how to compare sample means and variances using R software.
This chapter contains articles describing statistical tests to use for comparing proportions.
2

One-proportion z-Test

Compare an observed proportion to an expected one.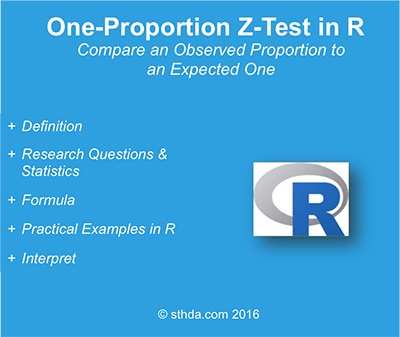 Read more: —> One-Proportion Z-Test in R.
3

Two-proportions z-Test

Compare two observed proportions.



Read more: —> Two Proportions Z-Test.
4

Chi-square goodness of fit test in R

Compare multiple observed proportions to expected probabilities.



Read more: —> Chi-square goodness of fit test in R.
5

Chi-Square test of independence in R

Evaluate the association between two categorical variables.



Read more: —> Chi-Square Test of Independence in R.
7

Infos

This analysis has been performed using R statistical software (ver. 3.2.4).
Recommended Books
Want to Learn More on R Programming and Data Science?
Follow us
by Email
On Social Networks:
---
Articles contained by this category :
Chi-square Goodness of Fit Test in R
Chi-Square Test of Independence in R
One-Proportion Z-Test in R
Two-Proportions Z-Test in R